When it comes to football betting, statistics play a pivotal role in guiding your decisions and enhancing your chances of success.
By looking into various areas such as team form, standings, head-to-head records, match importance, injury news, and coach changes, you can gain valuable insights to make informed bets.
In this comprehensive guide, we will explore how to effectively utilize these football statistics, enabling you to refine your betting strategy and maximize your profits.
Team Form Statistics
Think of team form as a team's recent performance snapshot. It's like checking their mood before they step on the pitch. Here's what to consider:
Overall form: Look at their recent results to see if they're on a winning streak or struggling to find their groove.
Attack and defense: Check how many goals they score and concede to understand their attacking and defensive strengths.
Goals per game: See how many goals they usually score and concede in each game to get a sense of their average performance.
By studying team form, you can identify trends, assess their attacking prowess or defensive vulnerabilities, and identify areas that bookies might miss.
For instance, in our football predictions, we visualize these statistics in the form of performance bars. However, you can do your own analysis using sites such as Flashscore.com
Team Standings
Think of standings as a team's position in the league table. It's like finding out where they stand in the race for glory. Here's what to know:
Points accumulated: See how many points they've earned to determine their competitiveness.
Home and away form: Check their performance at home and away to know if they have a home advantage.
Goal difference: Look at the difference between goals scored and conceded to gauge their overall performance.
By considering standings, you can spot teams that are on top of their game or struggling to stay afloat.
Head-to-Head Records
Another crucial statistic to mention is to analyze the team's past meetings and look for patterns. Think of head-to-head records as a history lesson between teams. It's like checking their previous encounters to find patterns. Here's what to look for:
Previous match results: Check how they fared against each other in the past to see if there's a trend.
Goals scored: Find out the average number of goals scored in their previous matches to anticipate future outcomes.
Home and away records: See if playing at home or away affects their performance against each other.
By studying head-to-head records, you can uncover teams that have a history of dominating each other or struggling against certain opponents.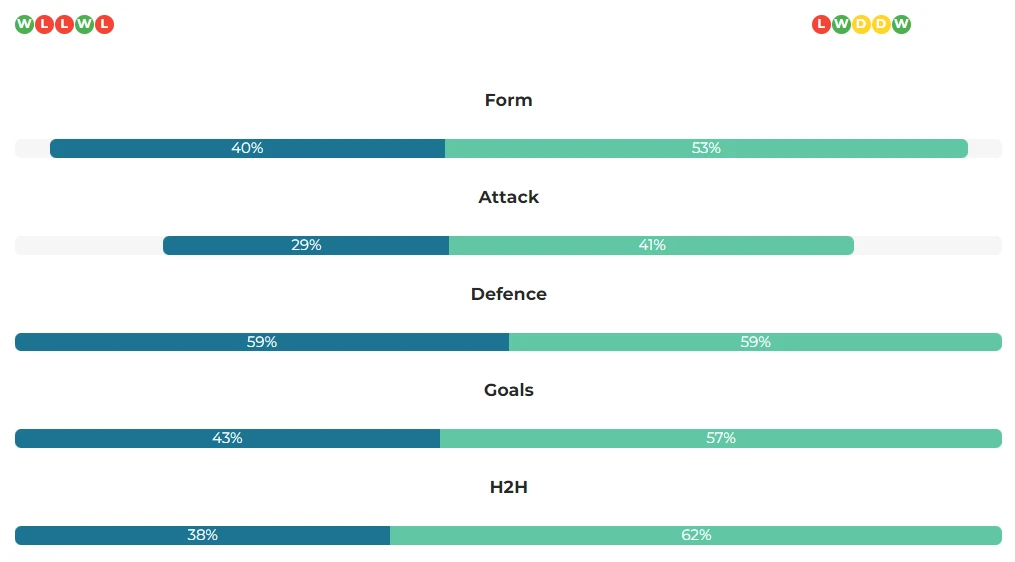 Match Importance
As we covered the main statistics, it's equally important to asses the match importance as the motivation that fuels teams. It's like understanding their drive to win. Here's what to consider:
Title races or relegation battles: Check if the match is crucial for their title aspirations or to avoid relegation.
Cup competitions: See if they prioritize knockout matches for cup glory.
Rivalries: Take note of intense rivalries that might influence their performance.
By understanding the importance of a match, you can better predict teams' efforts and focus on crucial games.
Injury News and Coach Change
Lastly, injuries and coach changes can affect a team's performance. It's like understanding potential game-changers. Here's what to look for:
Key player injuries: Check if any star players are sidelined as it can impact a team's strength.
Managerial changes: See if a new coach brings a different strategy or improves team dynamics.
By staying updated on injuries and coaching changes, you can many times identify new betting opportunities and value bets.
Conclusion
Using football statistics when betting on football is a must. There are several statistics that will help you analyze matches and predict future outcomes.
By considering team form, standings, head-to-head records, match importance, injury news, and coach changes, you can uncover patterns and increase your chances of winning big.
Remember to combine statistical analysis with other relevant factors and stay updated with the latest information to adapt your bets accordingly.
With this simple guide in hand, you're ready to step into the world of football betting with confidence and emerge as a true champion.