Today, I want to talk about the double chance bet strategy which can revolutionize your approach to football betting.
In this article, we'll explore what double chance betting is all about, how it works, and the advantages and disadvantages it offers.
So, get ready to discover a powerful tool that can take your football betting game to the next level. Let's jump right in!
What is Double Chance Betting?
Double chance betting is a strategic approach that allows bettors to cover multiple outcomes within a single wager, expanding their possibilities of success.
Instead of solely betting on one outcome (win, draw, or loss), the double-chance option empowers you to select two of the three possible outcomes, significantly improving your chances to win.
How Does it Work?
Let's dive into an example to better understand the mechanics of double-chance betting. Consider a highly anticipated match between Inter and AC Milan.
In a typical 1X2 tip (Home Win, Draw, Away Win) market, you'd have to select one outcome and hope for the best. However, with double-chance betting, you can cover two possibilities.
For instance, you can bet on Inter or a draw (1X), effectively ruling out an AC Milan victory.
Double Chance Options
1X
This option covers a home team win or a draw. It means you win if the home team emerges victorious or the match ends in a draw.
The only scenario where you lose is if the away team wins.
X2
This option covers a draw or an away team win. You win if the match ends in a draw or if the away team prevails.
Your bet is unsuccessful only if the home team wins.
12
This option covers either a home team win or an away team win, excluding the possibility of a draw.
You win as long as either team wins, but your bet fails if the match ends in a draw.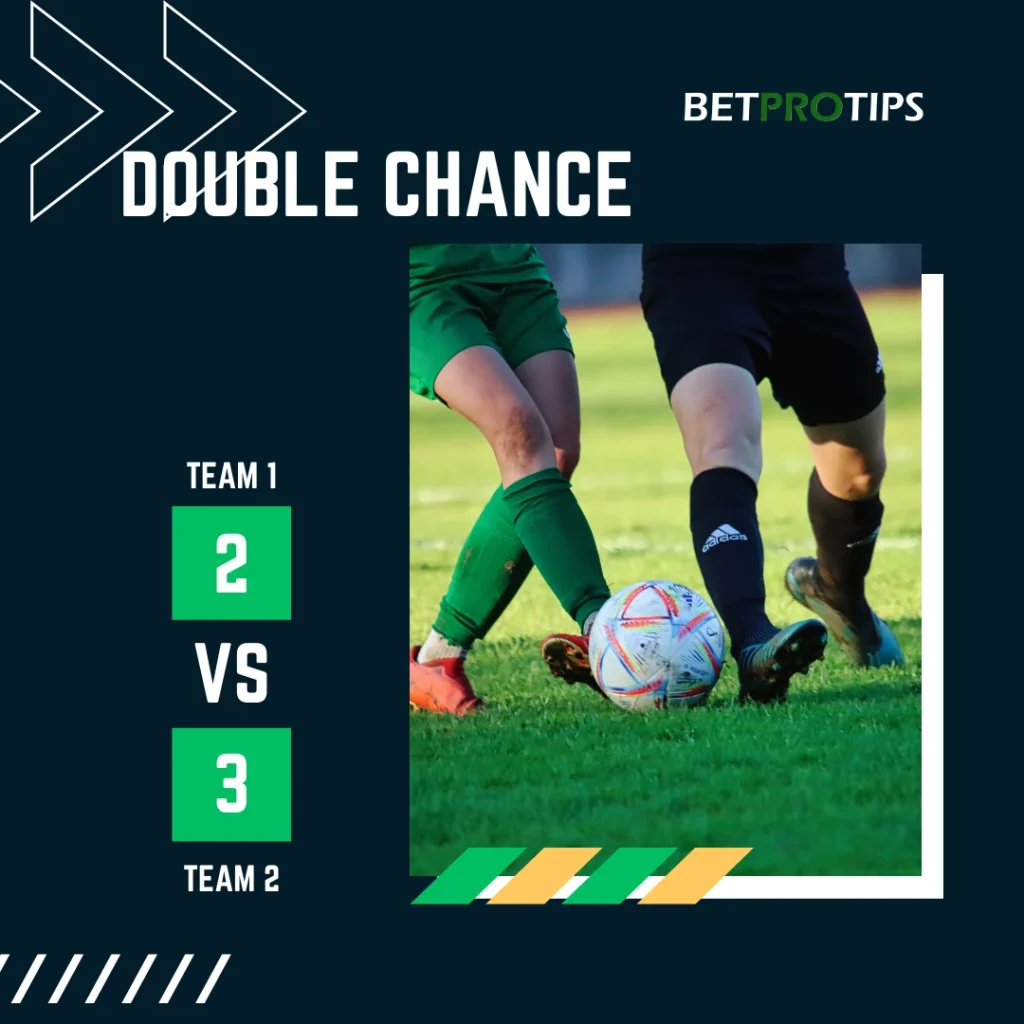 Pros of Double Chance Betting
✅ Improved Winning Opportunities
By covering two potential outcomes, you increase your chances of success. This approach acts as a safety net, reducing the risk associated with traditional 1X2 betting.
✅ Risk Mitigation
By diversifying your options, you minimize losses and maintain a more consistent bankroll.
It enables you to navigate the unpredictable nature of football matches and avoid devastating upsets.
✅ Flexibility and Strategy
DC betting allows you to adapt your strategy to different match scenarios. Whether you have strong confidence in a team's performance or simply want to play it safe.
Cons of Double Chance Betting
❌ Lower Odds
With this approach, you'll be sacrificing some of the more lucrative odds associated with traditional 1X2 betting.
While this might lead to reduced potential returns, it provides a more conservative and calculated betting approach.
❌ Lower Profit Margins
Due to the increased chances of winning, bookmakers tend to adjust the odds accordingly, resulting in lower profit margins compared to riskier bet types.
Conclusion
DC wager stands as a powerful weapon in the arsenal of any serious football bettor.
Although it may result in lower odds and lower profit margins, it provides a more conservative and calculated path to success.
Remember, success in football betting requires a combination of analysis, strategic thinking, and disciplined decision-making. So, try double chance bet yourself and explore the possibilities it offers.