Today, we're diving into an intriguing strategy that can amplify your chances of success: half-time full-time betting.
We'll explore how it works, its pros and cons, and equip you with the knowledge to dominate the game.
What is HT/FT or Half-time full-time betting?
Half-time full-time betting is a specialized wagering technique that involves predicting both the halftime result and the final outcome of a football match.
Essentially, bettors must forecast which team will be leading at halftime and, subsequently, which team will emerge victorious at the end of the game.
This approach offers an extra layer of excitement and challenges punters to evaluate a match from various angles, including team form, tactics, and motivation.
How to Master HT/FT Betting?
Let's uncover some key steps to maximize your chances of success with HT/FT bets:
Extensive Research:
You must dedicate time to thoroughly research the teams involved in the match. Analyze their recent form, home and away performances, head-to-head records, injury updates, and any other relevant factors that could impact the outcome.
The more information you have, the better equipped you'll be. Therefore, It's a good idea to check out our fully researched match predictions.
Understand Team Dynamics:
Football is a team sport, and understanding the dynamics within each team is crucial. Take note of any internal conflicts, tactical changes, or lineup adjustments that could affect their performance.
Additionally, consider factors such as team motivation, previous comebacks or collapses, and the influence of key players.
Evaluate Game Scenarios:
Evaluate the potential outcomes based on different halftime results and how they may affect the team's strategies, motivation, and gameplay in the second half. This will enable you to make more precise predictions.
Bankroll Management:
Set a budget for your wagers and avoid placing excessive bets or chasing losses. Determine a sensible staking plan and stick to it, ensuring that you're not risking more than you can afford.
Discipline is key to sustaining long-term success.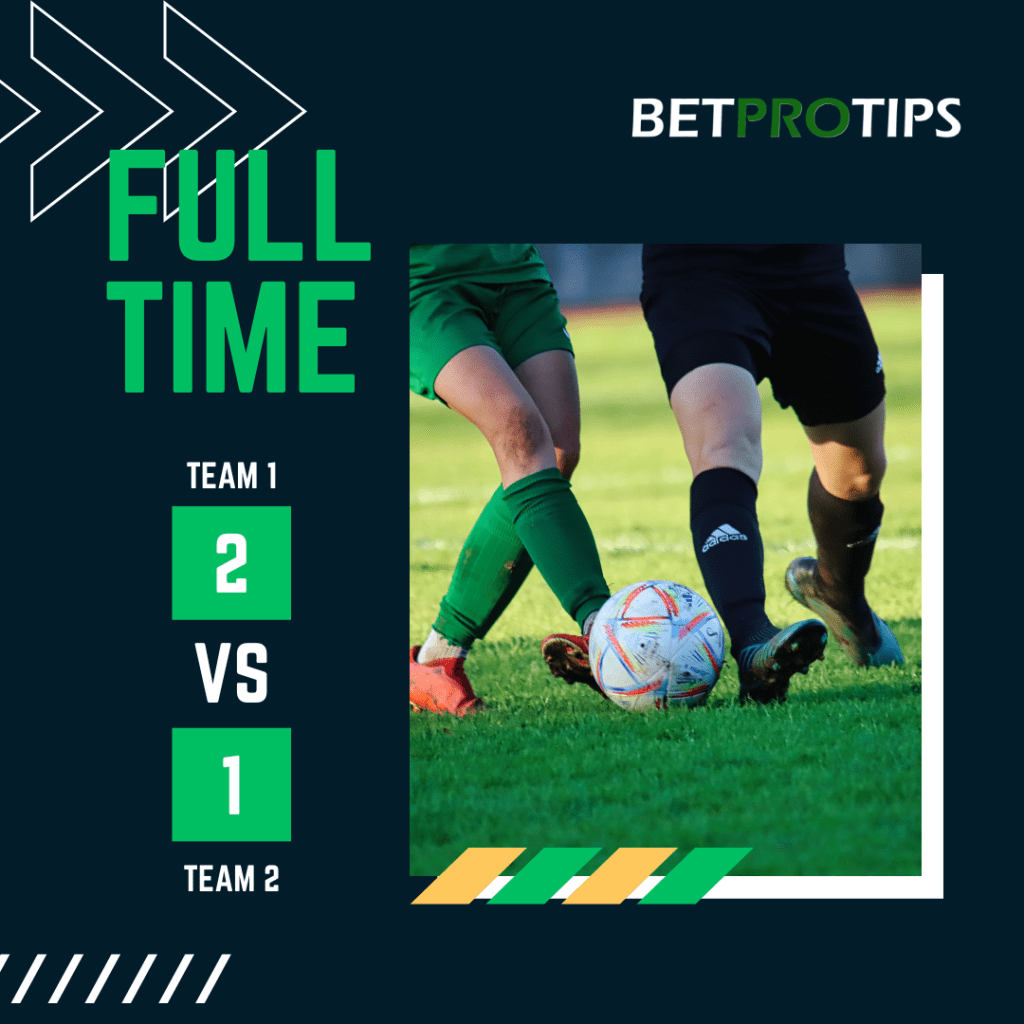 Pros of Half Time Full Time Betting:
✅ Higher Odds and Potential Profits
One of the primary advantages of this betting strategy is the high odds it offers.
Since accurately predicting both the halftime and full-time results can be challenging, bookmakers tend to provide more enticing odds for such wagers.
✅ In-Depth Analysis Opportunities
HT/FT betting necessitates a comprehensive analysis of teams' performance, tendencies, and playing styles.
This level of scrutiny can lead to a deeper understanding of the game and allow bettors to identify patterns that others may overlook.
✅ Variety of Betting Options
With half time full-time betting, you have an array of options to choose from, catering to your risk appetite and predictions.
From backing the favorite to dominate both halves to speculating on an underdog comeback, the possibilities are vast.
This versatility ensures there's a betting option suitable for every match scenario.
Cons of Half Time Full Time Betting:
❌ Higher Risk
The complexity of predicting both halftime and full-time outcomes increases the chances of inaccuracies.
❌ Unpredictability of Football
The beauty of football lies in its unpredictability. Teams can quickly shift momentum, turn the tide, or produce unexpected results.
While analyzing form, team dynamics, and head-to-head records can enhance your understanding, there's always a chance for a surprise.
Conclusion
Half-time full-time betting presents a unique opportunity for advanced bettors to dive into a more nuanced approach.
By predicting both halftime and full-time outcomes, punters can leverage higher odds, engage in meticulous analysis, and explore various betting options.
However, it's crucial to remain aware of the heightened risks and the potential for unexpected twists that football brings.
So, equip yourself with knowledge, conduct thorough research, and embrace the thrilling challenges that HT/FT betting presents.
Remember, in the world of betting, as in life, calculated risks often yield the greatest rewards. Happy betting!